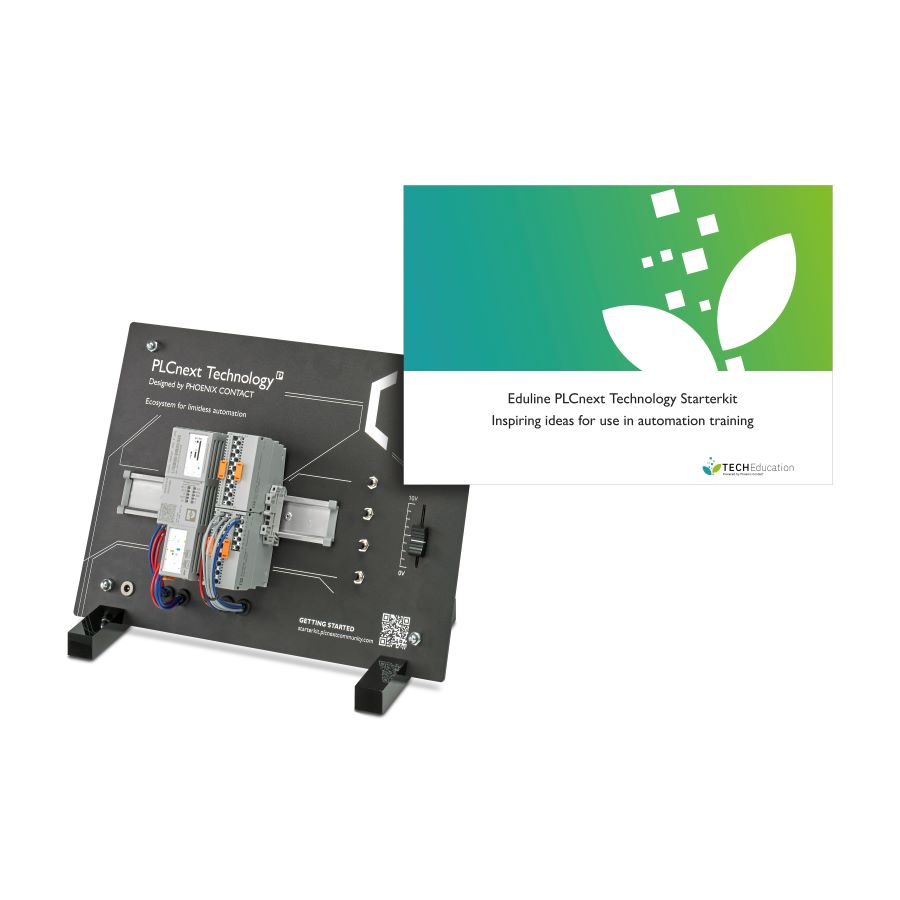 DIRECT ACCESS INTO QUALIFICATION FOR INDUSTRY 4.0.
Eduline PLCnext Technology Starterkit | EN
Ord. No. 1384833
The Eduline PLCnext Technology Starterkit combines an entry-level teaching board with a matching textbook including exercises and a simulation. The combination of theoretical fundamentals with practice enables an understandable introduction to automation technology.
Advantages
Relevant Subjects
Interdisciplinary teaching
Control and regulation technology
Learning and applying classical control languages and high-level language programming.
Know and apply network systems
The bundle is suitable for:
Learners at vocational schools with technical training such as IT, electronics technicians and mechatronics engineers
Students of technical studies
Private newcomers to the subject of control technology
Scope of delivery:
PLCnext Technology starter kit including plug-in power supply, patch cable and cloth bag
Accompanying didactic material (textbook)
Simulation
Theoretical tasks Basic Level and Advanced Level
The Bundle includes
The hardware included in the Smart Bundle comprises the PLCnext Technology Starter Kit including the PLCnext Control AXC F 2152, I/O modules AXL Smart Elements DI16/DO16/AI4, shift potentiometer, pushbuttons, plug-in power supply and patch cable.
The textbook contains theory chapters on the topics of Industry 4.0 and PLCnext Technology. For learning practice, sample tasks focusing on OT and IT, learning control questions and practical examples from industry are included.
The Factory IO project enables the simulation of a simple sorting system. In the simulation, different boxes are fed in via a conveyor belt. The workpieces are then detected by an image recognition sensor and sorted according to a specific logic. The simulation project uses OPC UA to create a connection between the simulation environment and the control device. The project is suitable for practice with IEC 61131 programming languages as well as C++ and C#.
The simulation file can be downloaded from the website after purchasing the bundle.
A Factory IO license is required to use the simulation.
REDEEM IT HERE.
You already have a password to download the Factory IO project documentation? Then you can start the download here.